O.U.R. HR is an association of all HR professionals who are keen to contribute to the growth and development of the HR market, but also to create a better place to work for all employees
O.U.R. HR is an abbreviation of the Organization of the United Work of HR, i.e. HR professionals, and for the younger ones it is simply "our" HR 
O.U.R. HR is an association of all HR professionals who are keen to contribute to the growth and development of the HR market, but also to create a better place to work for all employees.
O.U.R. HR was founded by the HR Fabrika, but the complete strategic guidance and leadership is done by the Board, which consists of 9 Senior HR Professionals. Their work, knowledge, experience and commitment, has ensured their positions to lead this association.
O.U.R. HR single source for  financing projects, Meet Ups, Trainings and all other activities are client benefit packages. Board members and HR Factory representatives are volunteers in this project.
As HR professionals, we have a mission to create a better HR environment and to be support in development of the HR market, HR colleagues and a better place to work for all employees.
O.U.R. HR has only one mission – to develop, educate and connect HR community through the activities of our Board and all HR enthusiasts. Through trainings, Meet-Ups, Conferences, Podcasts and articles, we want to share all the knowledge and experience of the best HR professionals from the country, region and the world and promote the HR profession as a function supporting development of all employees in the company.
With the mission to create stronger and reputable HR community
Aleksandra Dutina
HR director Serbia, BiH, MNE - Calsberg
Dragana Ristić
Head of HR - Zumbotel Group Serbia
Gordana Brašić
President of Henkel Serbia & Head of HR for Serbia, Romania, Bulgaria
Ivana Karanović
Head of Learning & Development - Karanovic & Partners
Jovana Uzelac
Head of HR South East Market - Nestle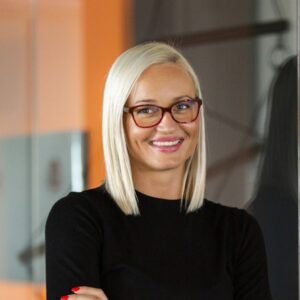 Maja Nedučić
Partner & Chief People Officer - Vega IT
Sanja Nonković
HR Director - Bugatti Rimac
Nikola Stokić
HR Manager - Toyo Tires Serbia
Radmila Krunić
Total Rewards Consultant - Mercer Marsh Benefits
Get in touch with us and we'll make sure to get back to you with lightning speed!
We are always baking something new. Don't miss out!